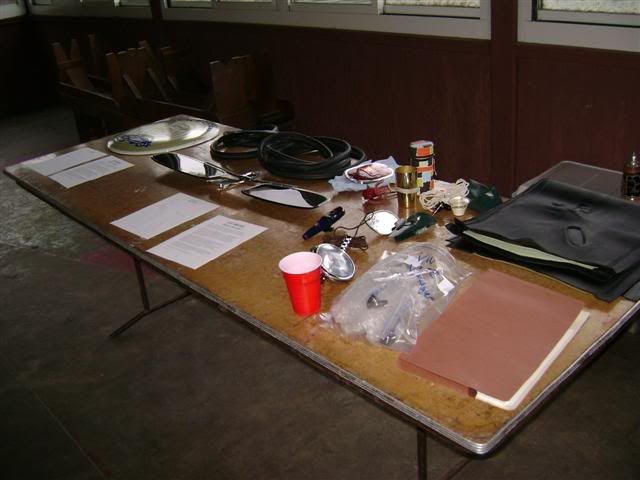 It's me, Sean
1957 Beetle Oval Sedan 36 Horse 6 volt
1959 Panel formerly 40 Horse 6 volt-Now an amazing 12 volts!
I'm a little late getting this post up but better late than never.
Due to all the generosity of those who donated to the silent auction
and the raffle,and all of you who participated in both we are able to give back to the Island in the way of a $250.00 donation to the Kelleys Island EMS squad. Thanks again to all of you who made this possible. We also have enough money left for a Christmas party. Watch the upcoming events for details. I know Sean covered it, but I also would like to thank all the volenteers,without whom we could not pull this off.Thanks to Kirk's wife Jennifer, Steve Young and his wife Angie, and Ray's wife Maggie for being able to jump in and get the pot luck going,and thanks to Ken's wife Carolyn for helping out with the t-shirts. All the women who got the Sat pot luck to happen,I don't know how you do it, thank you.

And again Thanks Chuck for the hotdog machine and especially for being the Dishwashing king. thanks akso to Keith from Cinci for jumping in with chuck.Thanks to Kyle and dad Gil for the important job of safley transporting to keg.

The spirit of giving and everyone helping out that permeates this event,especialy this year is what makes it all worthwhile.


The concensus from all those involved is that this years event was perhaps the best one yet despite the weather on Fri.

If you did not get a t-shirt because we were out of a size PM me,as we are considering a run of special sizes if there is enough interest.

Thanks again to all.
Bill
Posts: 508
Joined: Fri Dec 19, 2008 9:59 pm
Came across some nice pictures from last year . Enjoy
1972 weekender
1988 Vanagon
1968 Single cab
1984 Vanagon
1978 Transporter
1987 Cabrio
Mmmmm! Hot Apple Pie served in a MD 20/20 bottle!
Howie
‎"...the ones in love with the night, they light up like a cigarette." -Jack Kerouac