---
Sad to hear the news, my thoughts are with Art & his family. I was glad to attend the alignment workshop, Art was a wealth of knowledge.
---
---
Thank you all for your support and prayers.
It ment a lot to Dutch.
Jim Morgan
74 Super Beetle
---
I just wanted to recognize and acknowledge our own Mike Noble who did an outstanding job in organizing Art's memorial service. Mike did a fantastic job. He really deserves special recogintion. Thank you Mike!
Many LEAKOILERS, like me, only knew Art on a superficial level dealing with VW's. Little did I know what a rich history this man enjoyed. Can you imagine survivng the tragedy of the USS Franklin in March 1945?
http://www.youtube.com/watch?v=wxu_1ODhjN0
Yes Art did that and more. I could not believe how many people came out to say goodbye to humble Art Brow. Like Mike said, he was from the "greatest generation". We all pale in comparrison to guys like Art.
I loved this photo from the early days of Lossman Motors in the 1950's. That's Art in the middle and owner Bob Lossman next to Art in the plaid jacket. That's back in the days of family owned and operated dealerships with an emphasis on family. The guys who came to the funeral from Lossman's said everyone back then treated each other like family.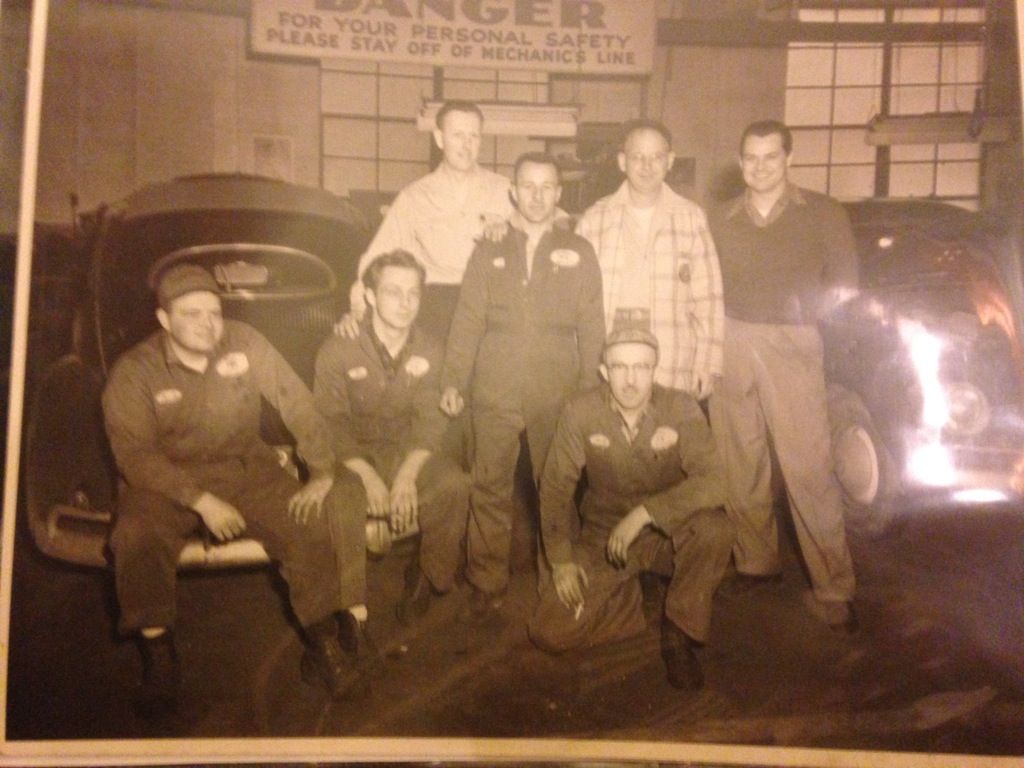 Art was awarded a lot of medals back in the day, but like many heros, he never bragged or talked about those events, (at least not to me).
These two guys, Jim (left) and Dial (right), were mechanics at Lossman's in the late 50's and early 60's and worked under Art Brow. They had great stories about Art.
One story I heard deserves special mention. After Art left Lossman (in his later years) he went to work at a dealership (unnamed) where they handed him a big box of parts and told him to "put them on the car". Art worked on the car and returned the box with most of the parts still in it. The service manager asked Art why he didn't put all the parts on the car. Art replied: "Because the car doesn't need them". At was honest to the core.
Art won a lot of races back in the day and all his championship awards were on display. Here's one of many.
Lots of photos of his racing years.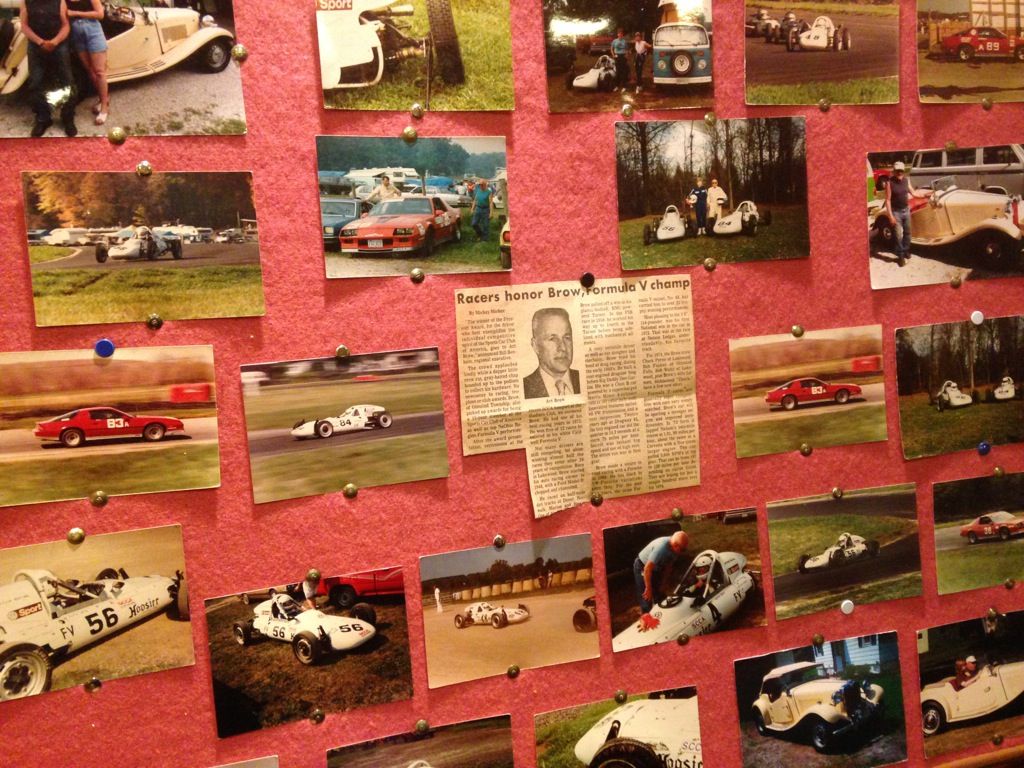 Art and his wife "Dutch" (who was also a racer) were featured in this book.
It's me, Sean
1957 Beetle Oval Sedan 36 Horse 6 volt
1959 Panel 40 Horse 6 volt
---
Great video find Sean.
The Rick Lang
---
Posts: 204
Joined: Wed Jan 05, 2011 10:17 pm
Sean... Thank you for the kind words....and the great post! Art is one of those quiet effective men who never drew attention to himself but was definatly the MAN you wanted "in the bunker" beside you!
I for sure am missing him and wish more of us could have known him as well as I did.
Thanks again,
Mike
---
Posts: 204
Joined: Wed Jan 05, 2011 10:17 pm
This photo taken just this fall shows Art rebuilding a motor for Greg Limber.... Yes at 89 years young!
---
Posts: 80
Joined: Tue Nov 17, 2009 1:52 pm
When ask, what are "The Most Important Things" I learned from Art Brow, I say: They are not about cars but people. Such lessons were so often taught with so little fan fare, that many of us were unaware what class we were attending. The many lessons were demonstrated quietly and most often taught by example.
If I had to put these lessons into words,(which quite often Art did not!), I would feel like I was para-phrasing words which Art never used..... Then I would use words modestly, and with a sense of economy.
1) Benevolent, not malevolent.
2)Speak kindly of others.
3)Given the choice of proving ones self as "right or kind", "Kind is probably the right choice.
4)Never use force when finesse would do.
5) Being fair builds strong character by exercising our goodness.
6) Honesty is an act of civility.
7)
8)
9) Truth and fairness are legitimate tools, always.
10) Know your job; It is a responsibility (to the customer) and not an entitlement program (for the worker).
11)When not done right; Make right.
12) Caring for others is honorable and healthy.
... Thank you Art Brow.
Thanks a lot!
Last edited by
Moderator
on Thu Jan 16, 2014 4:23 pm, edited 1 time in total.
Reason:
Inappropriate and out of context comments.
---
This guy reminds me of Art Brow. Check out the name of the plane he's standing next to!
http://jobs.aol.com/articles/2012/07/18 ... -after-70/
It's me, Sean
1957 Beetle Oval Sedan 36 Horse 6 volt
1959 Panel 40 Horse 6 volt
---
Who is online
Users browsing this forum: No registered users and 1 guest